Meet the creators of the incredible first-ever Indigenous Fashion Week show
After being unceremoniously canceled in 2020 and after a year that could have left us all wondering if Fashion Week was still around, Afterpay Australian Fashion Week felt a lot more electric this time around – and it there are several reasons for this.
The annual style explosion hit Carriageworks in Sydney this week with a busier schedule and more designers on display, some totally new, some icons of the Australian fashion scene. The shows embraced a vision of style that took us from shopping to aspirational, and purely imaginative and utterly moving.
There have been a few firsts, border moves and welcome changes to the mix – Indigenous models, trans models, and plus size models have all been featured on the catwalks. With Afterpay as a new sponsor, technological concepts were also presented, such as digital sewing. A silver trench coat designed by Toni Maticevski that could be 'tried on' on location at Carriageworks and is now destined to become a custom shareable digital asset.
Most touching, however, and one of our favorite shows throughout the week, was the very first spotlight on First Nations fashion design. In a gesture that could have been read symbolically by the organizers of Fashion Week IMG, the group chose to partner with the national Aboriginal and Torres Strait Islander organization. First Nations Fashion and Design (FNFD).
In addition to a Welcome to Country for the opening of Fashion Week on Gadigal Land on Monday, the FNFD presented an exciting combination showcase featuring seven Indigenous designers: Grace Lilian Lee, AARLI, Amber days, Creative Nungula, Sown in time, NGARRU MIIMI, and Claire Helene.
The models on the runway were all native, as were the management team and the production team. The show was accompanied by dance and movement pieces by Luke Curry-Richardson and Cleopatra Pryce, as well as epic live performances by William Barton, DRMNGNOW and Electric Fields, including the beautiful rendition of Little things, big things grow in Pitjantjatjara, Yankunytjatjara and English set the tone for the show – a song about a struggle for equality, land rights and recognition.
Held on the eve of Mabo Day in a magnificent setting of native greenery, Felicia Foxx stole the show in a eucalyptus green ball gown; AARLI showcased the cut streetwear in the prominent slogan "Deadly"; Grace Lillian Lee's woven armor was simply powerful, and Claire Helen's stunning silks in earthy tones are all we want to wear this summer.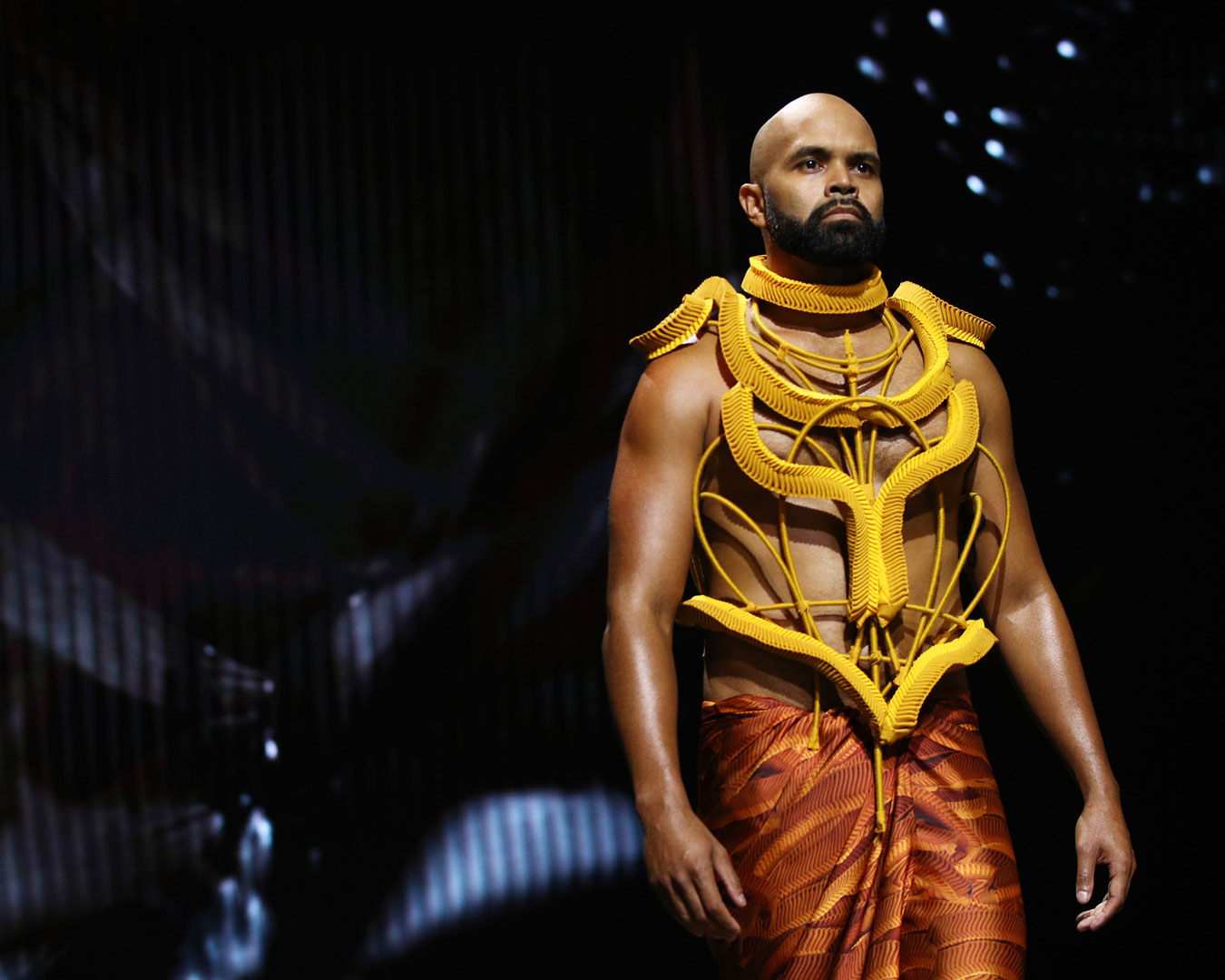 AARLI designer Teagan Cowlishaw told us her collection was inspired by the "future of First Nations fashion".
"We are the next generation of mortal warriors. A legacy that we must carry forward for our families and our community. United we are urban warriors. We are loud, proud and deadly!"
"I am so proud to be alongside my sister Grace Lillian Lee to present a show at AAFW that has never been seen before," continued Cowlishaw.
"I am so honored to be invited to present as a First Nations designer and to have the opportunity to present my work on this major platform. I am so honored to be walking with some amazing independent brands. These platforms are what will inspire our communities and the next generation to have self-determination and to dream for the stars. "
At the end of the show, the models stopped, reached out, and let the sand sift to the floor. Then, in a rare gesture for the button-down front row lined with disguised fashion editors and influencers, the crowd gave a standing ovation, which turned into ceremonial applause, led by Electric Fields singer Zaachariaha Fielding.
It was without a doubt the highlight of the week. Emotional, rich, and a reminder of what Fashion Week can be for us too: a vision full of hope for the future.
Want to see for yourself the superb collections designed by the natives? Historic fashion will be presented in a new exhibition titled Eucaluptusdom at the Powerhouse Museum in Sydney in July.
Now read this article on why the responsibility for reconciliation does not lie with First Nations people, written by Yorta Yorta writer Taneshia Atkinson.
Image credit: Afterpay Australian Fashion Week